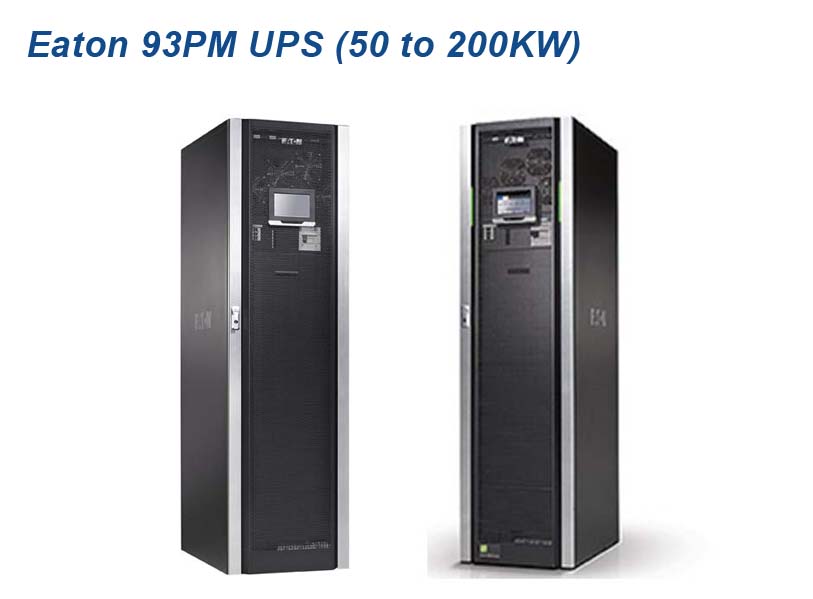 Eaton 93PM UPS is an all-in-one solution that maximizes uptime of your critical processes and at the same time helps you combat ever increasing costs of energy. Industry-leading efficiency exceeds 96% in double conversion mode and reaches top 99% with Eaton's ESS technology. Together with world-class intelligent software solutions for monitoring and management, Eaton 93PM is the surest way to secure the continuity of your mission critical applications.
Eaton 93PM UPS provides 96.7% energy efficiency in double conversion
On-line double conversion topology keeps critical load equipment protected against all common power problems. Its modern multilevel converter technology ensures that the Eaton 93PM UPS operating efficiency is top-of-market 96.7% resulting in significant savings in operational costs.
Energy Saver System delivers superior > 99% efficiency
Energy Saver System enables > 99% efficiency across the UPS operating range. In ESS, load is powered securely through static bypass line with double conversion available on-demand with typical 2 ms transition time in the event of any abnormality on supply source. When operating in ESS mode, load is protected with inherent surge suppression.
More power in a small footprint
The Eaton 93PM UPS is a high power density solution. With a footprint of just 0,5 m2, it can provide full rated power and 10-20min runtime with internal batteries.
Advanced battery management
Unique charging algorithm prolongs battery service life significantly compared to traditional charging methods. Automatic battery tests ensure any defects on batteries are detected and failed blocks replaced on time. Battery health data is available for viewing easily through the display. Being able to monitor the condition of batteries and history log of test data, system maintenance can be better planned and scheduled ahead.
Intelligent Power Software (IPP/IPM)

The Eaton 93PM UPS is designed for the most advanced IT environments, and it comes with interfaces for Web and SNMP as standard.
Small, Medium ,
Mega,
Modular and  Virtualized Data centres
Health care
Mission critical application
Industrial
IT Infrastructure
Marine and offshore